A Complete Guide to Building Your Horse Arena
Building a riding arena is a lot more complicated than just its top layer. You'll need to budget and plan for what kind of arena you want to create. It's important to factor in what you want to use your arena for, as this can determine what size, what kind, and what budget you'll need to make your arena dreams a reality. Here's a step-by-step process of how to design and construct your riding arena.
Building a Horse Arena Can be a Significant Undertaking.
If you've thought about building your own arena there are a few things you need to know before you start the process. To help you, we've created this complete arena construction guide to walk you through what you need to know and some common pitfalls when creating your dream horse arena.
Indoor vs Outdoor Riding Arenas
The first decision you'll need to make when designing your horse arena is whether to build an indoor or an outdoor area. Each type of arena has its advantages and disadvantages, but knowing if you need an indoor or an outdoor arena will help you answer a lot of future questions about what size and materials you'll need to create your dream arena.

What Size Should an Arena Be?
Arena dimensions depend on what type of arena you aim to build. If you have the space, a larger arena gives you more room to ride and reduces wear, since being more confined to smaller spaces causes you to ride over the same area more often. Unfortunately, a larger arena is also more expensive. To determine what size you need you can factor in the standard sizes for arenas by discipline.
If you intend to use your arena for dressage competitions or other events, check USEF's guidelines for competition dimension requirements. Remember that this will vary by sport
Where to Build a Riding Arena
Once you've chosen a size for your arena, you're ready to pick a location. You'll need to find an area that offers the amount of space you're looking for. If you own stables, keep in mind how far your arena is from your horse.
Finding a location that needs less leveling and excavation will help you to keep costs down. The less work that needs to be done to a location, the cheaper it will be. You'll also want to consider the potential for flooding. A valley might not be the best place to build, as your arena might frequently end up underwater. For outdoor arenas, an area that enjoys a lot of sun exposure can help dry your arena after rainfall.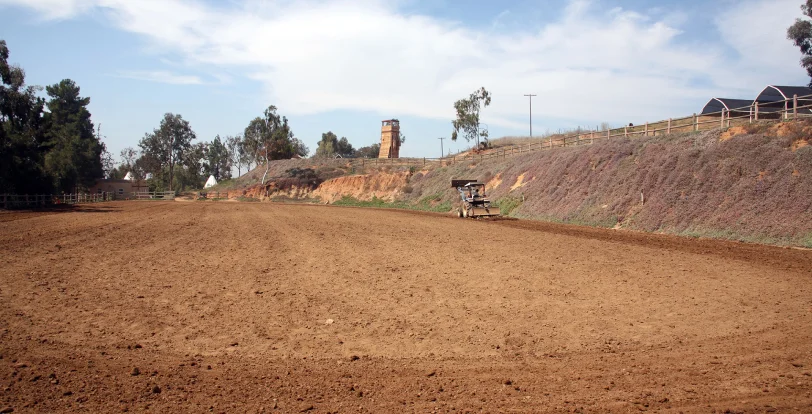 After you've planned out your arena design you can begin filling out the necessary permits. The planning application will require details of your construction project, so you'll want a well-thought-out idea of what your arena will look like and what you'll need to build it.
You won't be able to begin construction on your arena until you've gotten approval so be sure to apply well in advance of when you aim to begin building.
Proper drainage is a crucial step in building a riding arena. Effective drainage systems will help maintain the quality of your arena. Drainage issues can cause poor performance and increase wear on your arena, which can create additional costs and maintenance later on.
The type of drainage system you use will depend on whether you're building an indoor or an outdoor arena.
Add BaseCore™, to control erosion and drainage of your soils.
The Importance of a Solid Arena Base
Creating a strong and stable arena begins with its base. The base is one of the most important factors in an arena, as it serves as the foundation. The base of an arena supports your horses, so any uneven surfaces or ineffective materials can impact performance or cause injury.
Creating the Ideal Riding Surface
Finding the right footing is necessary to achieve the highest performance level and to create a healthier and safer riding environment for you and your horse. To achieve the best ride, there is no one-size fits all footing option. Consider what you intend to use your arena for and if you decide to go with a sand base, what local materials are available.
Keep in mind the transportation costs associated with sand types, some might be easier to access in your area than others.
Footing additive blend with your arena sand to soften horses' impact, reduce compaction and stabilize the footing. It also helps prevent small sand particles from releasing into the air as dust. Footing additives are important to create additional cushioning and reduce dust, improving your ride and the safety of you and your horses.
The 100% organic fiber footing blended with natural elastomers to reduce dust and concussion on tracks, arenas and pens.
Transform your arena in hours. Reduce dust, reduce impact and injury and ride in comfort.
ArenaGreen is made of entirely organic material, making it suitable for horses and good for the environment.
Introducing our revolutionary equestrian footing, a unique blend of natural rubbers, elastomers, and high-quality fabrics inspired by Nike's renowned technology.
We've already discussed how footing additives can help reduce dust but for a more targeted solution, you might want to consider additive products created specifically for arena dust reduction.
Having too much dust when you ride in your arena not only decreases performance, it can be a health hazard for both the rider and the horse. If you're concerned about dust in your arena, consider adding a dust reduction solution to your arena footing.
Waterless Arena Footing Options
Watering your arena can get tiresome and expensive. In some areas, watering is not even an option with new regulations and lack of availability. Waterless footing is a lower-maintenance footing option.
Borders and Fencing for a Riding Arena
Because indoor arenas are enclosed, fencing is only needed if you're building an outdoor arena. Fences around the sides of the arena can be made of wood but, if you're looking for a sturdier option, you can find fences made from steel and other metals.
All arenas are recommended to have a border in place, to hold in the footing and sand. These can be as simple as using railroad ties or pressure treated wood options.
Arena Costs and Maintenance
Building your dream arena is exciting, but it can get expensive. It's important to factor in your budget when deciding between materials. On average, an outdoor arena costs between $1 to $10 per square foot, depending on your materials. Indoor arenas will have a similar cost, plus the cost of the overall structure.
The higher quality materials you use, the higher-quality arena you have. But you'll also incur more costs. Consider what you need to use your arena for and what you're willing to pay for it. Plan out your budget ahead of time to know what your arena will cost to build and maintain.`
Fill out our simple quote form and receive an estimate on the construction of your unique arena throughout the US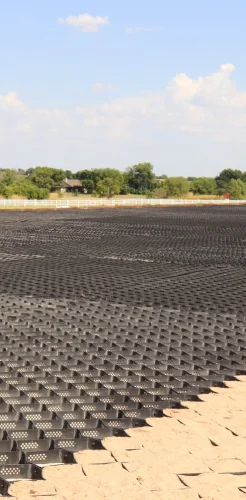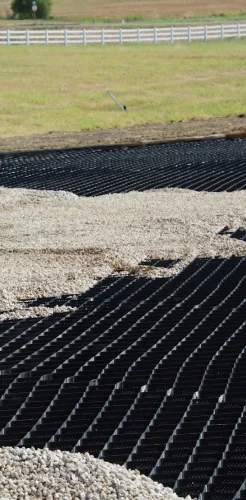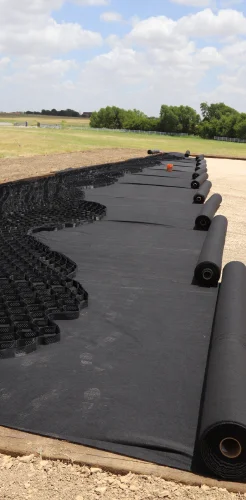 Get a Quote to Build My Arena
"*" indicates required fields
We take privacy VERY seriously. We do NOT SPAM or sell your information. By submitting your email and phone number, you agree to receive emails or calls and/or SMS messaging from Performance Footing about your inquiry. You can easily opt-out at any time