As low as 31¢ a square foot!
Transform your arena in hours. Reduce dust, reduce impact and injury and ride in comfort. Unlike rubber, FoamFooting ™ is hypoallergenic, does not crumble, does not contain metal pieces, and does not have the smell of rubber.
Our company, comprised of riders, instructors and product designers, knew there had to be a better solution to address the ongoing problem of dust, constant maintenance and lifeless footing. FoamFooting ™ is an easy to apply foam additive that is effective for indoor and outdoor arenas, benefiting different disciplines and geographies.
| Bags | 10-24 | 25-39 | 40-56 | +56 |
| --- | --- | --- | --- | --- |
| Discount | 0% | 10% | 12.5% | 15% |
Other Dust Reduction Alternatives
How Much FoamFooting Do I Need for My Arena?
Thank you!
Give us a few minutes to calculate this and we will email you within 5 minutes.
Calculate the Amount and Cost
We take privacy VERY seriously. We do NOT SPAM or sell your information. By submitting your email and phone number, you agree to receive emails or calls and/or SMS messaging from Performance Footing about your inquiry. You can easily opt-out at any time
Change the Life of your

Indoor or Outdoor Arena.
Additives are a welcome addition to your arena to help reduce compaction, dust watering and more. Most importantly, you can install it easily yourself and maintenance is a breeze. FoamFooting comes is easy to manage, install and store bags the size of your typical horse feed bags.
Foam Footing™ blends easily into your new or existing footing whether it be sand or stone dust or contain additives already such as GGT textile footing, fibers or rubber. Simply rake out and use any drag to work it in.
Once FoamFooting™ is installed, riders have described the following benefits:
Softens the
Hoof's Impact
Lessens the
Amount of Dust
Reduces the
Amount of Watering
Enjoy Longer
Training Sessions
Reduces compaction and lessens frequent injuries
Dramatically Improves Cushioning and
Energy Return
Lessens Compaction Even in Freezing Temps
Use Foam Footing with Our Best Selling


Products for Enhanced Results
Add BaseCore™, to control erosion and
drainage of your soils.
Add Geotextile fabric that is strong, puncture
and UV resistant, and allows water flow
Compare FoamFooting (made from


Yoga Mats) to Other Solutions
| | FoamFooting | GGT-Footing | ArenaGreen |
| --- | --- | --- | --- |
| | Sonic welded and shredded foams that maintain grip and absorbs moisture. | Fabric type fibers that binds fine sands to stabilize sand and retain water. | Non-synthetic, non-oil based additive made from 99% biorenewable carbon, that is safe for horses and the environment. |
| MOISTURE REQUIREMENT | LOW | HIGH | NONE |
| REBOUND | HIGH | LOW | HIGH |
| CUSHION | MEDIUM | MEDIUM | MEDIUM |
| MAINTENANCE | LOW | HIGH | LOW |
| SAND REQUIREMENTS | ACCEPTS ALL | FINE | NONE NEEDED |
| MOISTURE RETENTION | MEDIUM | MEDIUM | HIGH |
| GROOMING EQUIPMENT | ANY | SYNERGY | EQUIGROOMER |
| INSTALLATION | EASY | MEDIUM | EASY |
| REDUCES DUST | WELL | VERY WELL | VERY WELL |
| LONGEVITY | HIGH | HIGH | HIGH |
| COST | MEDIUM | MEDIUM | MEDIUM |
| SHIPPING COST | INQUIRE | INQUIRE | INQUIRE |
| | SHOP NOW | | |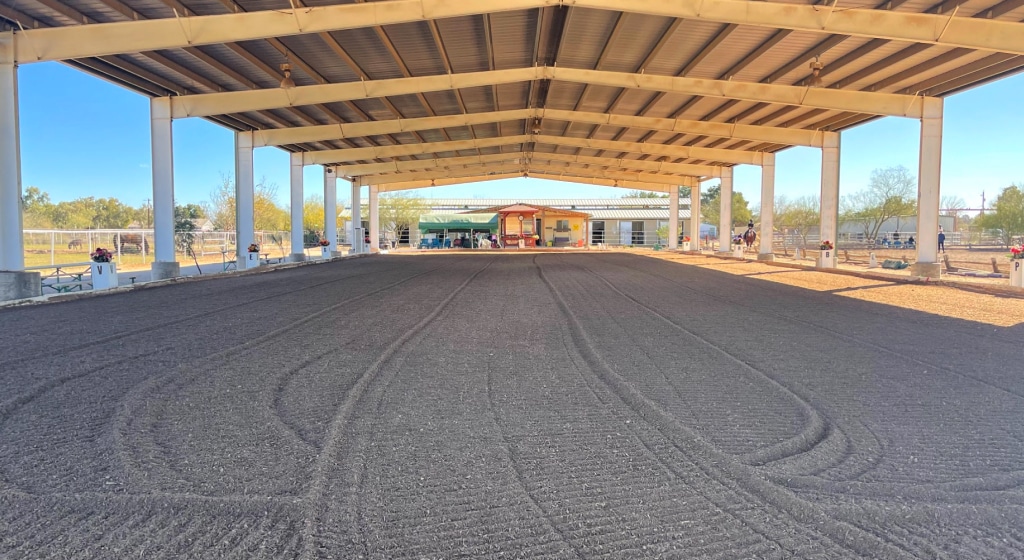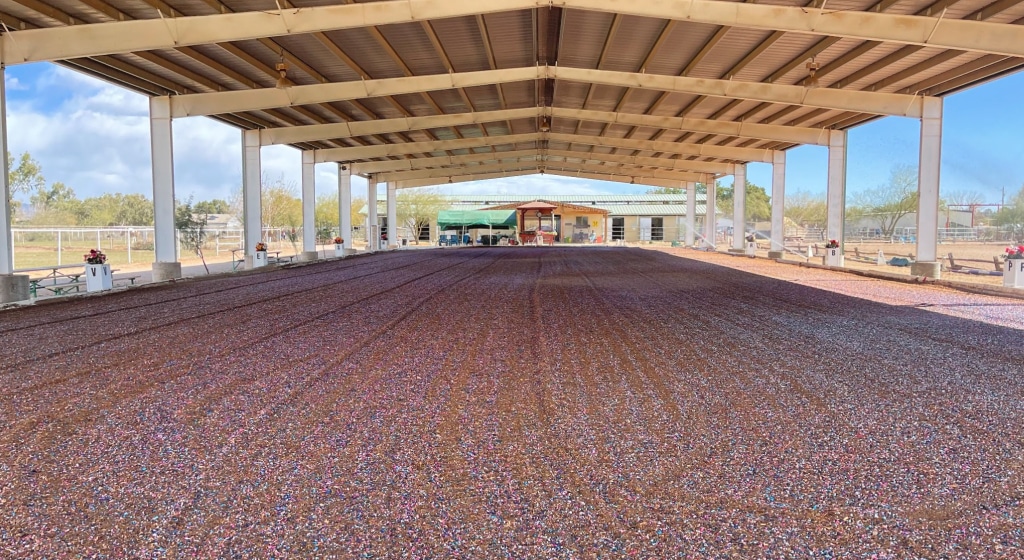 Footing Products to


Use Individually or Together
You can use different footing products together to create a stable, long-lasting surface that will provide multiple benefits to your riding arena or roadways.
FoamFooting™
Add your sand or base footing material and mix in FoamFooting™

BaseCore Geocell
Fine crushed angular gravel is inserted & compacted into the BaseCore™ geocell

Geotextile Fabric
Roll your geotextile fabric over the flat and compacted ground
Installed in temperature ranges of minus zero to...
Made from the same material used to make high-end yoga mats, it has been installed in indoor and outdoor facilities throughout the United States and Canada.
Simple to Install - Easy DIY
Easily place the bags on your arena, rake out and drag with any drag or harrow.
It mixes with many different types of sands, screenings or even other footing additives like GGT. Most customers elect to use inexpensive masonry sand, starting with 2-3" of this sand and using our calculator to calculate a suggested amount of FoamFooting.
Need More Support?


We've Got You Covered…
If you are wondering how you can take full advantage of this product, contact us now.
Contact One of Our Specialists Today
We take privacy VERY seriously. We do NOT SPAM or sell your information. By submitting your email and phone number, you agree to receive emails or calls and/or SMS messaging from Performance Footing about your inquiry. You can easily opt-out at any time