Modern eco-friendly solutions for your arena footing
Offering three premier footing options for horse arenas worldwide
We look at it like a recipe. While there are many potential ingredients to use, it is the magic created after putting them together that makes it all worthwhile.
That's why when designing your own premier footing recipe, there are many options and why the horse-loving team at Performance Footing offers free footing consultations and multiple footing options for every budget.
Simple Installation
Our process is easy. Some of our footing options are easy to install in hours. Others we will provide clear instructions, guidance and support throughout the process.
Transform your arena into the riding
surface of your dreams!
Our footing solutions are used in both indoor and outdoor arenas, runs, walkers and more!.
Softens the hoof's impact
Lessens the amount of dust
Reduces the amount of watering
Enjoy longer training sessions
Reduces compaction and lessens frequent injuries
Dramatically improves cushioning and energy return
Prevents freezing
Reduces Dust
High Water Storage Capability
Optimal Impact Resistance
Prevents Packing
Increased Slide Strength
Provides Amazing Stability
No Dust
Eliminates the need for watering
Improved cushion
Eliminates the need for additional additives
Sits directly on arena base
Creates optimal sheer
| | FoamFooting™ | GGT Footing™ | ArenaGreen™ |
| --- | --- | --- | --- |
| Material | Shredded foams that maintain grip and absorbs moisture. | Fabric type fibers that bind fine sands to stabilize sand and retain water. | Manufactured sand with natural binding agents, that is safe for horses and the environment. |
| Moisture requirements | Low | High | None |
| Rebound | High | Low | High |
| Cushion | Medium | Medium | Medium |
| Maintenance | Low | Medium | Low |
| Sand Requirements | Accepts All | Fine | None Needed |
| Moisture retention | Medium | Medium | High |
| Grooming equipment | Any | Synergy Groomer | Any |
| Installation | Easy | Medium | Easy |
| Reduces dust | Well | Very Well | Very Well |
| Longevity | High | High | High |
| Cost | Medium | Medium | Medium |
| Shipping Cost | Inquire | Inquire | Inquire |
Great for your animals, your arena, and your budget! FoamFooting is a hypoallergenic footing additive that is easily mixed with any sand, providing both you and your horse comfort while you ride.
A footing additive to keep your fine sand footing in shape! GGT-Footing™ provides support to existing footing by preventing slippage, reducing dust, and helping it maintain rebound.
Hunting for low maintenance footing? ArenaGreen is a complete footing solution for those ready to think less about arena maintenance: no watering, dust-free, and sits directly on the arena base.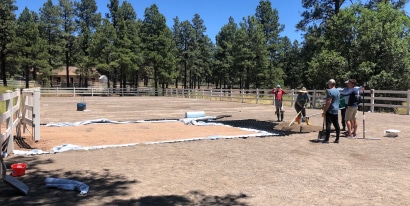 Building a new arena or redoing one?
View our Arena Construction Guide
"New Impulsion Solutions FOAM FOOTING in our indoor arena! Can't wait to ride on it! 5 stars for this company! AFFORDABLE and amazing customer service. Easy and beautiful to Install. 3 of us girls got it done in no time!"
"Great company to work with! They are very friendly and answered all my questions. They checked with me after my delivery to make sure everything was ok. Clients at the stable really like the footing. Great footing! I put it in my indoor arena and will be adding it to my outdoor in the future!"
"Installed the geocell for our RV. It came packaged professionally with easy-to-use instructions. Saved us TONS of time and money and couldnt be happier."
"Our community ordered BaseCore for our common area park and couldnt be happier. It was cost effective, saved us money on gravel and installation, and our buying experience couldnt be easier. They answered our questions and shipped our order the next day."
"I have happy horses and happy riders! Thank you Performance Footing for making my arena everything I hoped it could be."    ~ Palisade, CO
"I had A LOT of questions and [insert name] in the office patiently answered every single one of them. And she was right! It was easy to use."      ~ Pacifica, CA
"I wasn't really sure if all of this was necessary for my indoor arena. I was wrong. It made a massive difference for maintenance and dust control. I feel better knowing this is protecting the health of our horses."  Point Reyes Station, CA
"The day the foam arrived I think every single one of our riders showed up to see the color explosion. It was so fun. I am STILL relieved at how easy it was to apply. Thanks Performance Footing!"     ~Cave Creek, AZ
"Performance Footing was easy to work with and we are pleased with how everything turned out. I would use them again." Half Moon Bay, CA