 Performance Drags & Groomers
Shipping is calculated prior to delivery
Brand new design specifically engineered for light sand and synthetic arena footing additives. Special footing materials take specialized equipment to maintain, and that's why the experts at Conterra set out to build a solution specific to this market.
Engineered Efficiency and Proven Quality
Stable footing contributes to the safety, performance and longevity of your horse.

A well-worn path or depression is bound to cause harm. Creating a dragging habit is healthy for your horses, riders and overall arena maintenance.

Timing is everything. It is better to drag more than necessary than to neglect the task. Regardless of whether you have natural or sythetic footings, ruts can easily form, and the deeper they become the harder they are to fix.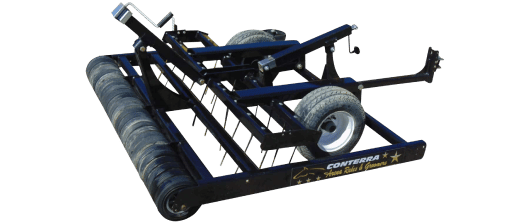 The Conterra Synergy Groomer is designed for use on light sand and synthetic footings.
The Conterra Synergy Groomer is designed to be pulled with an ATV, UTV, Garden or Compact Tractor.
Two rows of flex tines designed to mix your surface, followed by an open cage roller to secure your footing.
The Rear Open Cage Roller is split into two sections to enhance footing stabilization and reduce roller-skid around corners.
The Conterra Synergy features two of Conterra's Revolutionary Depth Control Systems. One is the Tine Adjustment Jack, which allows you to easily and quickly adjust your surface mix, and extend the life of your tines. The Second is the Transport Lift Jack which allows you to lift the entire groomer of the ground and transport across your yard riding on the tires.
Arena Tines are easily replaced by removing a bolt and retainer clip.
Frame is constructed from laser cut 1/4″ steel plate and 2″x2″ square tube cross braces for years of dependable service.
The No Scuff Wall Wheel helps the operator navigate the arena and can be mounted at the front or rear on either side.
Wide Floatation Tires are mounted on 1000lb axles with Easy-Lube hubs to ensure a long life and smooth ride.
The Conterra Synergy is available in size widths of 64″ and 76″.
Black Powder Coat finish.
The Conterra Synergy ships assembled and ready to use when it reaches your door.
How Often Should I Drag My Arena?
It depends, how many horses use the arena? If there is just one horse, dragging every 2-3 days should adequately redistribute and level the footing. The more horses you have, the more often you will need to drag. The important thing is to keep the arena surface as level as possible.
Other Performance Drags


& Groomers Alternatives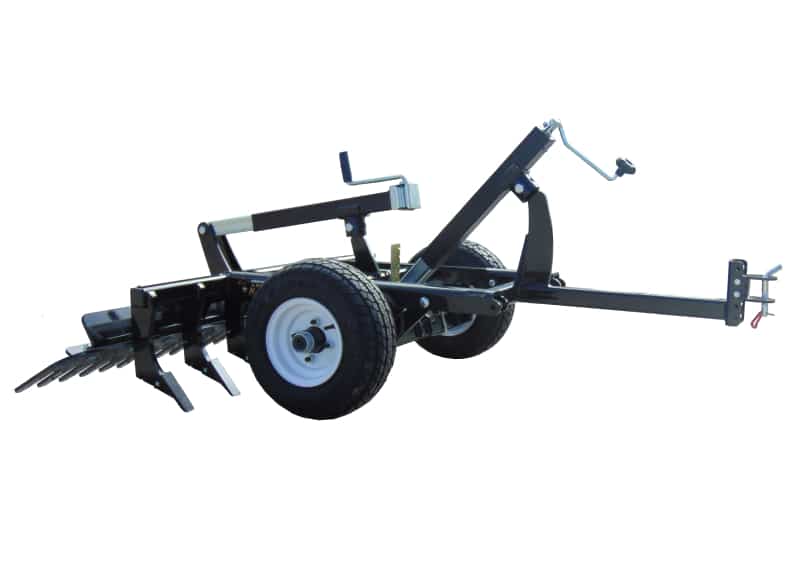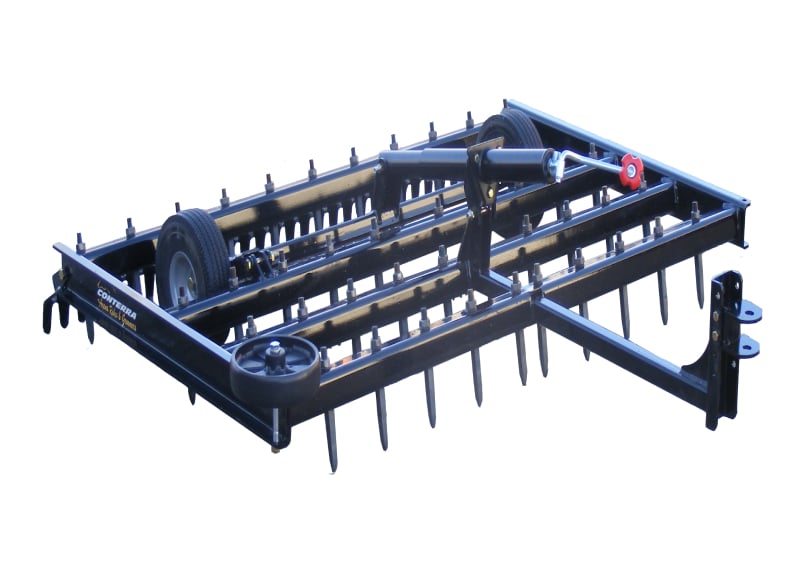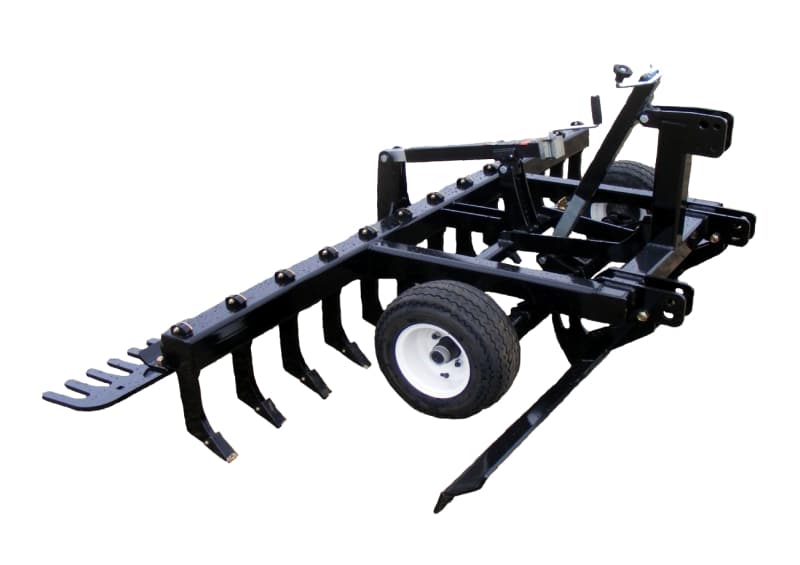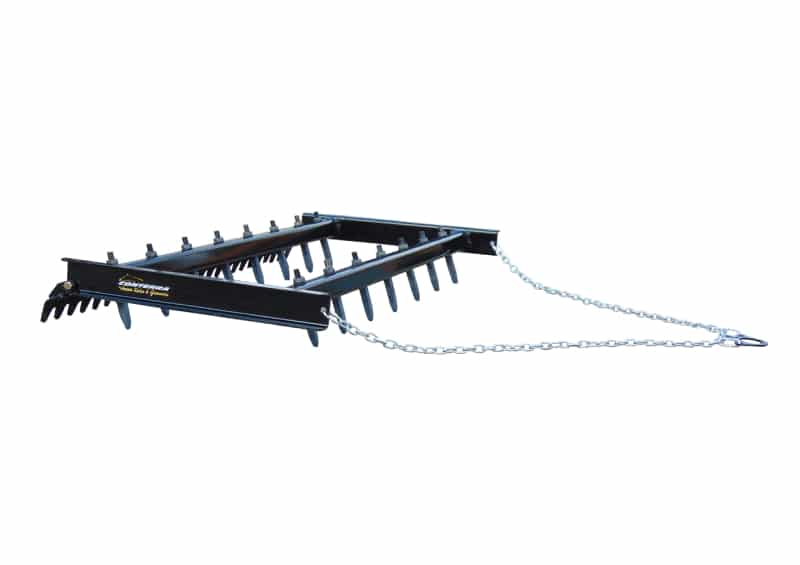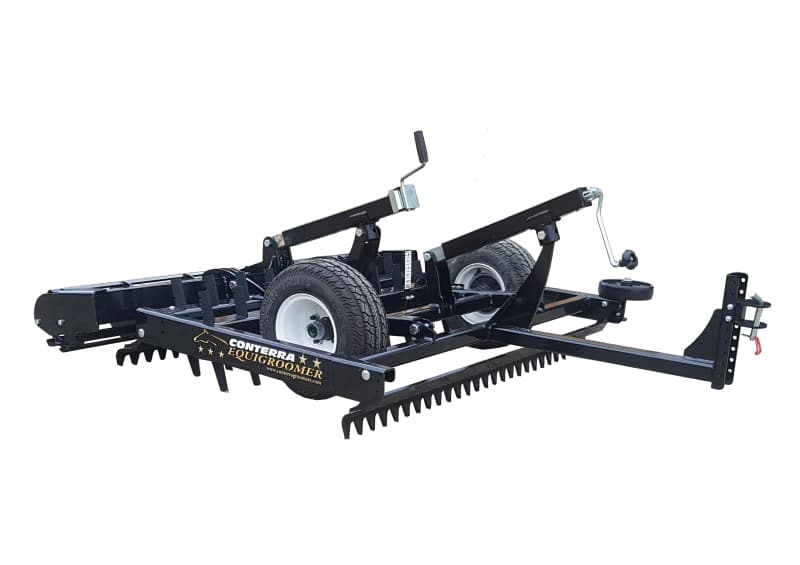 Need More Support?


We've Got You Covered…
If you are wondering how you can take full advantage of this product, contact us now.
Tell us about your project
Let us know which products you are interested in
We will reply to you as soon as possible, thank you!
Contact One of Our Specialists Today
We take privacy VERY seriously. We do NOT SPAM or sell your information. By submitting your email and phone number, you agree to receive emails or calls and/or SMS messaging from Performance Footing about your inquiry. You can easily opt-out at any time